Shanghai Haozhuang Instrument Co., Ltd. developed the LNB brand constant temperature mixer, which is energy-saving and environmentally friendly, leading the country. Professional manufacturing is more secure and affordable. The company has first-class technical staff and a good team of technicians, with advanced technology and strong development strength. Since the establishment of the company, products and services have been recognized by customers and have a good reputation. The company upholds "integrity. Professionalism. Innovation. Growth "The business philosophy provides elaborate service to customers.
Technical advantages of thermostatic mixer 1. LED liquid crystal display, digital display of various parameters, intelligent PID adjustment, precise temperature adjustment of the sample tube 2. With power failure recovery function, the instrument can follow the original setting procedure after power failure recovery Automatic resume operation 3. Microprocessor control to ensure superior temperature stability and uniformity, accurate oscillation speed, small fluctuations, over-temperature alarm 4. With timer function, arbitrarily set cultivation time within the range of 0 ~ 99h59min Metal module with large heat capacity, small thermal resistance, uniform heating, convenient module replacement, easy to clean and disinfect 6. Temperature calibration function and short oscillation jog function, over temperature protection function, sound alarm signal at the end of the program operation 7. Quiet And stable DC brushless motor drive, long life, maintenance-free 8. Multiple safety protection functions, safe and reliable, in line with CE safety standards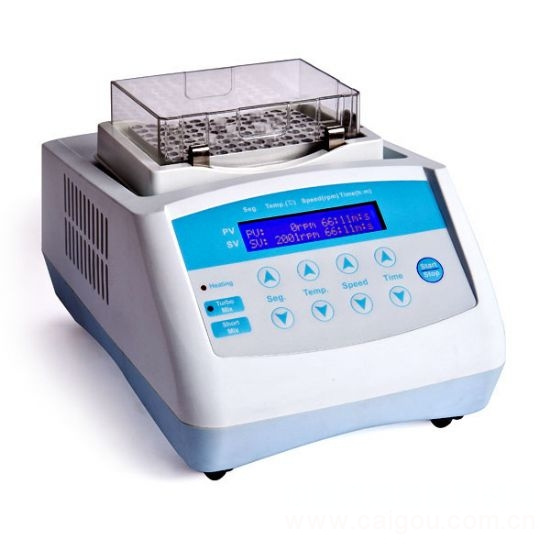 Introduction of Constant Temperature Mixer The constant temperature mixer (thermostatic oscillator, constant temperature incubator, oscillating constant temperature metal bath) uses a DC brushless motor and micro-processing technology combined with intelligent PID control to quickly maintain stability after reaching the target temperature. It can save waiting time and form a perfect combination of the two functions of constant temperature and oscillation, which greatly shortens the time of experimental operation and improves the efficiency of the staff. It is an ideal automated tool for the reaction process of sample incubation, catalysis, mixing and storage.
The constant temperature mixer has multi-purpose functions such as heating and shaking. Can meet the needs of different users.
Shanghai Haozhuang Instrument Co., Ltd. is a technologically innovative high-tech enterprise based in Shanghai and radiating the whole country. The company has first-class technical staff and a good team of technicians, with advanced technology and strong development strength. The company relies on modern scientific technology , Continuously improve product quality and launch new products to keep it in sync with the international level, products are exported to all parts of the country, and won the trust of users with excellent quality and perfect service.
Garment/t-shirt printing machine is used for industrial textile production.
It combines fast printing speed and elegant design at a suit,and almost the same level of production cost with
traditional textile printing, make the digital printing production to become a reality.
As high as 5760 * 1440 dpi resolution and 5 color and 6 color printing selection, providesa more lifelike designquality.
Garment printing machine is very reliable, and is equipped with the garment mould,
ensure garment transportation stably; perfect design for ink system and nozzle moisturizing device,ensure continuity of production and spray print quality.
Garment Printer is applicable to all kinds of different thickness of fabric,
with professional color separation software to realize printing directly in cotton, hemp, silk, wool, nylon, polyester artificial short fibers
and single or blended fabric, etc.Meet the rapid, changeful, high quality, energy saving, environmental protection market demand.
Direct to garment printer that print on dark tees do so by laying down a layer of white ink first, then printing on top of that white image. If it didn`t do this, then all of your printed images would be tinted by the color of the t-shirt itself.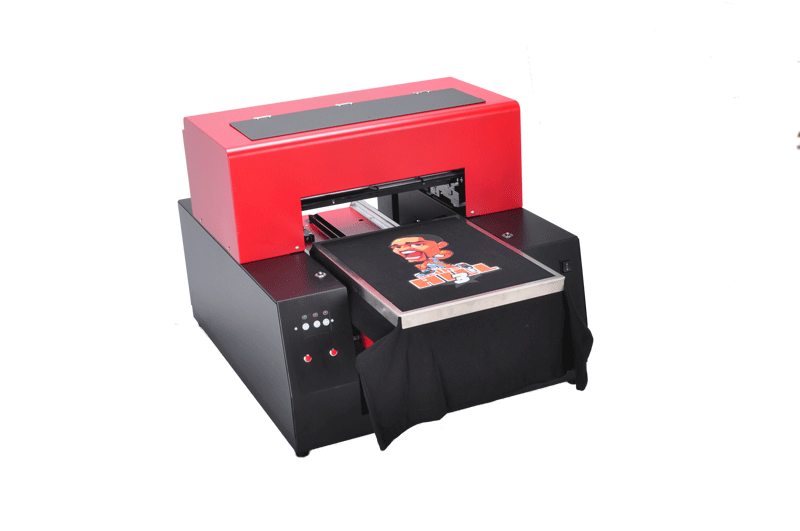 | | |
| --- | --- |
| Name | Garment printer |
| Print head | DX5 |
| Printer size | 33*43cm(33*60cm) |
| Printing speed | A4 photo/111s |
| Printng resolution | 5760*1440dpi |
| Nozzles | 90*6=540 |
| Interface | USB2.0 |
| Net weight/Gross weight | 55Kg/60Kg |
| Printer size | 750*630*510mm |
| Height adjustment | Automatic |
| Working power | 110V/220V 50/60Hz 30-75W |
| Operation system | Windows 7/XP/2000/Vista etc |
| Temperature | 5-35o |
Garment Printer
Garment Printer,Digital Garment Printer,Commercial Garment Printer,Garment Envelope Printer
Shenzhen Refinecolor Technology Co., LTD. , https://www.rfcprinter.com