On the 16th, the "Guangzhou Public Security Bureau" issued a micro-blog called "Sinker Mark on salt packaging," which has caused many people's attention. Weibo said that when buying salt, it is necessary to pay attention to the side of the salt package. If there are creases on the side, this package of salt is likely to be false salt, and the true salt package technology is very smooth and there will be no creases. Many housewives, after seeing this news, are anxious to check their salt bags at home and see whether the sides are creased. Can a crease really verify the authenticity of salt?

Why did the police stare at the crease on the salt bag? It turned out that not long ago, the Guangzhou police cracked a false salt case and involved more than 5,000 tons of false salt, amounting to 20 million yuan. The criminals used the non-iodine crude purified sun-dried salt or even industrial salt to sell salt and sold it to the whole country, and the packaging bag had obvious creases. Seeing this news can not help but worry that there will be such salt in the city market?

Yesterday, the reporter first came to a large supermarket in the city. He saw salt, low-sodium salt, and pregnant women's salt on the salt shelves. The reporter took out three kinds of salt and observed them carefully and found that their packaging was a separate one. Integral packaging and two-piece packaging, no creases appear on the sides. All three salts are from the same salt company.

The reporter found no signs of crease salt in this large supermarket. Will it exist in small supermarkets and farmers' markets? The reporter then visited three small supermarkets and a farmer's market, and found that the salt for sale in these places also came from the same salt company in the city, and there was no trace of "crease salt."

"Is there a folding mark on the side of the bag is salt problem?" Yesterday, an industry source who did not want to be named revealed that the salt industry is a national franchise, only companies that have obtained wholesale licenses have production qualifications, and salt in different provinces has its own. With its own packaging specifications, creases are not the only basis for verifying the authenticity of salt. However, the reporter learned from the interview that there is no crease in the packaging of salt produced by a regular salt company in the city according to their production process. The relevant department staff told the reporter that creases are not necessarily true salt. According to the relevant personnel of the salt industry, the city had detected a number of salt problems from Yingkou during 2005. Salt was a problem for packaging sachets. There was a problem with iodine content and so on. It had nothing to do with creases.

It is reported that there are no fixed rules for the manufacture of false salt by lawless elements, and the means for counterfeiting have been continuously updated. The packaging of salt varies from province to province. There is no crease on the packaging bag and it cannot be used as conclusive evidence to judge the authenticity of salt. Usually false salt will make a fuss on the content of iodine, because the cost of iodine is higher, without adding iodine or less iodine will become a way for criminals to seek benefits. According to relevant experts, if the human body lacks iodine, it may lead to gastrointestinal disorders, nervous system damage, lighter people will appear 10% to 20% of intellectual impairment, and severe cases will result in thin or dementia.

Stainless Steel House Numbers
3D effect hardware house numbers is constructed from solid metal body and is made of stainless steel 304,black or satin brushed finish,will be rustproof and waterproof, brushed treatment looks textured, could be used indoor or outdoor, the normal thickness is 2mm, will not be twisted easily.
Features and advantages
1.EASY INSTALLATION - Requires no special tools outside of a hammer and It comes with a high quality mounting kit.
2.FLOATING EFFECT-each door number is silver or black, and has a hidden back legs of 6mm in length. It provide a modern floating effect for our numbers and letters, and they seem to magically float when viewed from the front.
3.SOLID STAINLESS STEEL - One of our biggest advantage over our competitors is that our products are made from the finest 304 Stainless Steel. Our Stainless steel house numbers and letters are extremely durable and made to withstand the harshest conditions.
Description
| | |
| --- | --- |
| Material | Stainless Steel 304 |
| Size | 3inches-12inches |
| Surface treatment | Satin or Black |
| Thinkness | 2mm with 6mm back legs |
| Using | Home,office,hotel,factory,etc |
Product details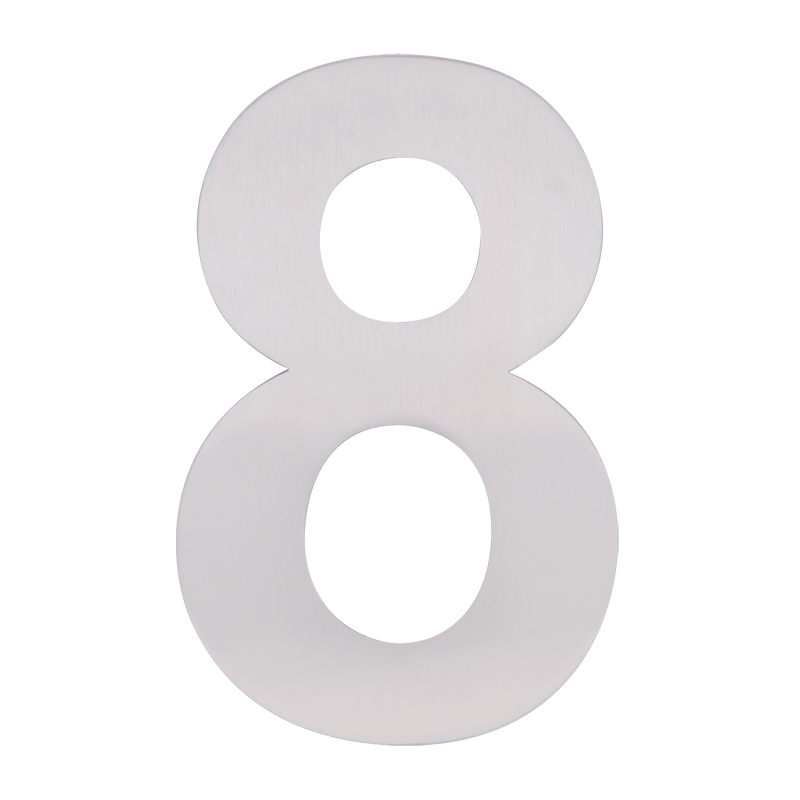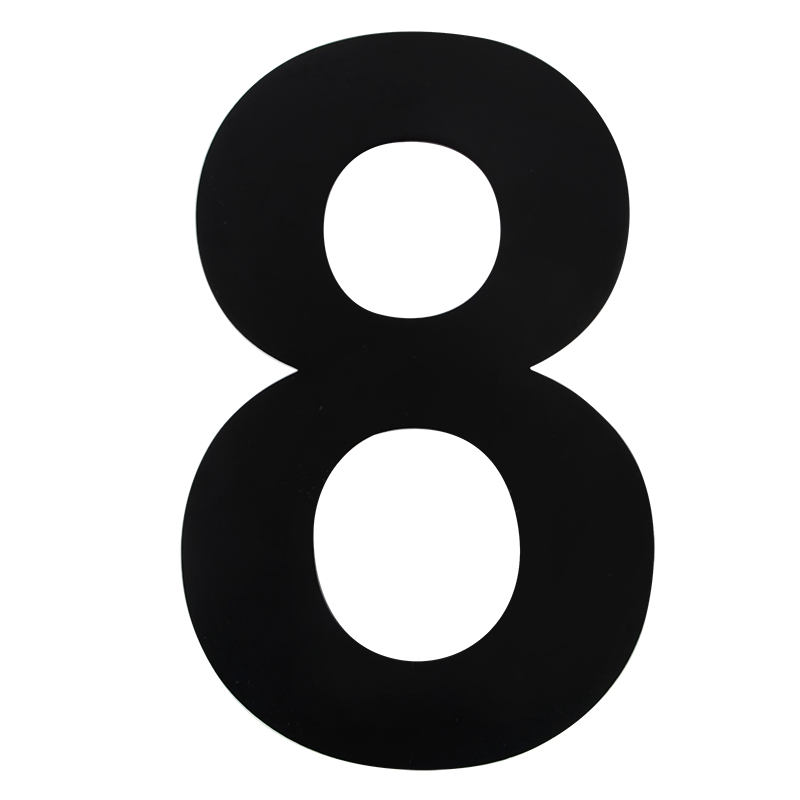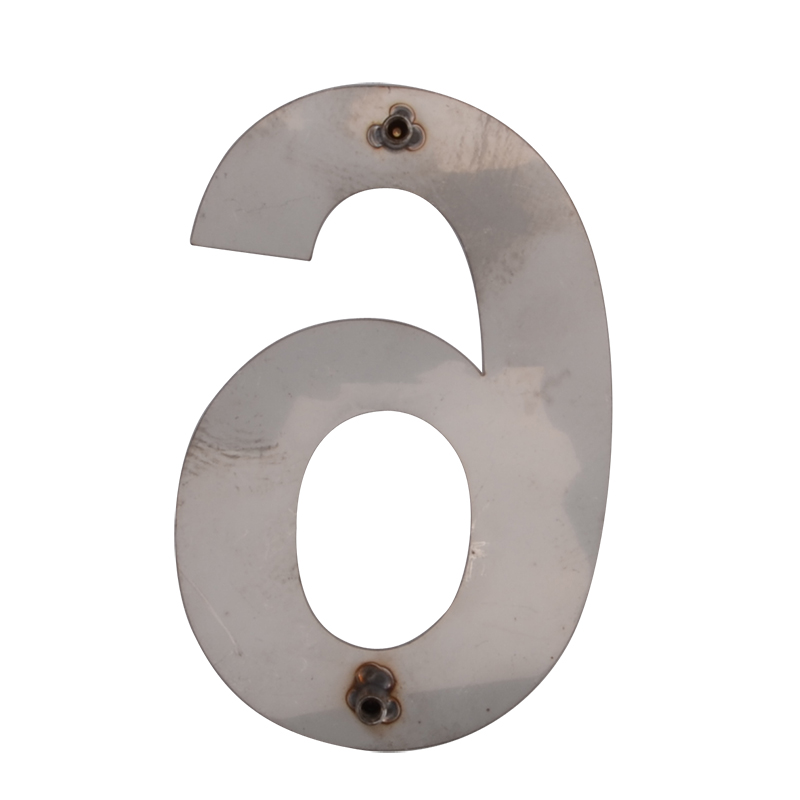 FAQ
1.Q:Do you accept customize?
A:Yes,we have our own factory, can customize according to your requirements.
2.Q:Can print our logo or company name on the product?
A:Yes, if the guest requirement, we can print your logo and company name such as the information on products or packaging.
3.Q:Is it possible to get a free sample?
A:Yes,Stock samples are free, but shipping cost you collect. We could also customize sample for you, the specific price will be confirmed according to the sample`s workmanship. If we have a further cooperation in the future, the sample fee will be returned.
4.Q: How does your factory do regarding quality control?
A:Our quality inspections will take quality control of each production process, also you can come to our factory to make the inspection the goods before shipment, till the guests are satisfied of them and make the payment, then we will make the shipment.
5.Q:What is your delivery time?
A:Usually 25-30 days. According to the product and quantity, delivery time will have different.
Home Hardware House Numbers,Laser Cut Stainless Steel House Numbers,3D Effect Number Plate,Metal Invisible Screw House Number
Fungho Industries (Group) Co., Limited , https://www.funghogroup.com